Me on the Jerry Springer Show
I was revisiting some of my blog pages and came across this one about the time I appeared on The Jerry Springer Show on ITV when he took over the Jeremy Kyle Show. Apparently, it was only for four weeks, according to Jeremy. Both shows are now history. The Jerry Springer Show finished in 2018 and Jeremy Kyle Show was cancelled permanently May 2019 after a participant died shortly after appearing on the trashy exploitative daytime show.
I found this item about Jerry V Jeremy and a bum tattoo. Jeremy Kyle makes shock dig at TV rival Jerry Springer.
https://www.entertainmentdaily.co.uk/tv/jeremy-kyle-makes-shock-dig-at-tv-rival-jerry-springer/
Turning to the camera, Jeremy ranted: "With the greatest of respect for a man that was the number one daytime talk show in America for 19 years… But he only lasted four weeks over here." In fact, The Jerry Springer Show ran for 27 years in the US from 1991 to 2018, starting when Jeremy was still a radio presenter.
I
Of course, we could also point out to Kyle that there was Jerry Springer the Opera which was a great success and got much publicity but no one bothered with an opera homage to his second rate English imitator.
I was contacted as a Humanist Celebrant, via the British Humanist Association, sometime in the noughties by the Jerry Springer team who were putting on an edition of  THE JERRY SPRINGER SHOW in the Jeremy Kyle Show slot. There were to be two couples, each with one of the pair a transsexual,  who were committed to each other and wanted to have a wedding commitment ceremony on the show. Back then, before civil celebrants, we were the obvious go to for a secular wedding commitment ceremony. The BHA knew that I would probably be up for it having done some solo comedy. But, being the Jerry Springer Show there also had to be an extra slant to this too, involving some discord from their families.
Anyone who puts themselves forward for that show is seeking/happy for the publicity and their few minutes of TV exposure. As well, they would be getting a little trip to London, a stay in a hotel, receive a makeover and be supplied with a wedding outfit from wardrobe department. But they did also have to bring along their modicum of 'family dynamics' involving some disapproval, of course.
I was asked if I would act as celebrant and agreed that I would if I thought the couples were genuinely committed to each other- as much as one can make such a judgement about folk wishing to undergo the 'Jerry Springer' treatment. I asked that I be given the opportunity to talk/interview the couples to ensure that they did want to make a commitment to each other as well as getting to understand more why they wanted a public ceremony and what the dissenting 'issues' were around it. I also have to ask if any of them are virgins as I do not marry virgins as I would deem it irrational to do so! They assured me that they were not virgins. This got me into bother with Humanists UK and the Ministry of Justice. That's another story. https://sheelanagigcomedienne.wordpress.com/2019/09/11/i-dont-marry-virgins/
In the first case it was the woman X whose mother objected to her daughter's relationship  because her partner Y had been a man when they first started to go out together. Mother was not going to budge on this and was not going to give them her blessing.
With the second couple there was hardly a problem but they manufactured one by getting the transsexual female's son to state that he could not call his Dad 'Mum' but he was prepared to be the best man. His Dad was not asking him to call him Mum despite Jerry trying to stir it up! The son had, of course, accepted the situation, seemed to like his Dad's partner and obviously was glad to see his Dad happy.
Here I am supporting Equal Civil Partnerships.
I helped the couples to write their own vows for the show as I refuse to do a formulaic repeat-after-me scenario as this is a hangover from a time when many people were illiterate. Instead, the couples write and read their own vows to each other. We had some fun preparing their promises/vows. We all had our makeover done. I thought I looked okay in a heavily made-up sort of way and it was evident that my tendency to become flushed was not apparent. Three of the four got their virginal white wedding dresses and veils and looked suitably bridal with bouquets as befits a JERRY SPRINGER  wedding event.
The first part of the show was about the 'set-ups' with their families, then I performed a very brief ceremony, they duly read their vows to each other and I pronounced them wedded and gave them permission to kiss – as you do. There was whooping and cheering as there usually is. Then they got Xs mother to storm off shouting obscenities to her daughter and her bride whilst the bestman son congratulated his 'Dad' and her husband. And we all went off to enjoy some ITV champagne.
JERRY SPRINGER SHOW is daytime and the only person who told me he saw it was Roger who was a local gay friend.  For me it was just another interesting event in my life as a Humanist celebrant.
The ITV Televison Centre was only recently sold to Mitsubishi. According to an article in the Architects Journal. https://www.architectsjournal.co.uk/news/make-set-to-redevelop-itvs-former-south-bank-headquarters/10046730.article
Make Architects has been selected to redevelop the former ITV headquarters building on London's South Bank by its new owner Mitsubishi Estate in an all-cash transaction, reportedly worth £146 million, in November last year. Managing director and chief executive Yuichiro Shioda said: 'The size and South Bank location of this site present a unique opportunity to create something that is truly a destination in its own right.'While our exact plans for the site are still being finalised, we will be working towards a scheme that contributes to both the local community and cultural focus the area enjoys, and will be seeking an open dialogue throughout with Lambeth Council.' There are objections to the scheme.
Jerry Springer the Opera started life at BAC and we were there when it was 'scratched' with Richard Thomas and collected a lot of tins of lager which Joan and I insisted were shared around.
https://www.theguardian.com/stage/2005/feb/24/theatre1 Richard said; " In February 2001, I performed a late-night lecture called How to Write an Opera about Jerry Springer. I spoke for about 40 minutes and I also bought several crates of beer to give to the audience in return for some feedback and ideas. This went down well.Alone at the piano, he invited members of the audience ( double figures on a good night) to make suggestions for the show's content.
By May 2001, I had written the first-half libretto and about 20 minutes of music. I had four singers perform it and I also sang at the piano. I am a terrible singer but the material still worked well. That was a good sign. The evening attracted great press and some investment to pay singers and move the project forward. It also attracted Stewart Lee (who was also thinking about giving up), who came on board as co-librettist and director.
In August 2001, we performed a one-act version at the BAC Opera festival. This went stupidly well, but we still carried on trying new material because we wanted to do a two-act show.
In August 2001, we performed a one-act version at the BAC Opera festival. This went stupidly well, but we still carried on trying new material because we wanted to do a two-act show."
https://www.standard.co.uk/go/london/theatre/didnt-they-do-well-7287242.html The critics have pronounced it as "triumph, tragedy and trailer trash, as high art meets low", "utter, impure theatrical pleasure" and "an exhilarating foulmouthed fiesta".
Of course, there were objections from the religious prigs shouting blasphemy and how it offends them. As ever they are told they don't have go to see it but can't prevent others from enjoying such entertainment.
The show was then performed in concert at the Edinburgh Festival in 2002, selling out. Jerry Springer came to see the show and endorsed it, stating, "I wish I'd thought of it myself." Following the Festival run, Nicholas Hytner offered to include the show in his opening season as director of the National Theatre in London.
It is still being revived. it was staged at the Hope Mill Theatre Manchester last August. https://www.theguardian.com/stage/2019/aug/14/jerry-springer-the-opera-review-hope-mill-theatre-manchester-stewart-lee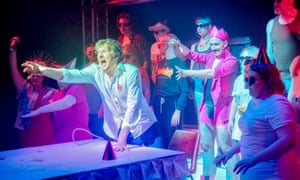 In the age of Trump, certain lines jump out. "You could run for Senate or even president," Jerry's warm-up man tells him, greeted with a chorus of bitter laughs. The show's questioning of the moral responsibility of TV also feels newly pertinent after the axing of The Jeremy Kyle Show.